Christian Bloch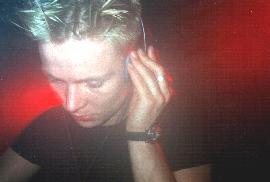 He has been important for the small but steady techno scene in Denmark. Since the beginning of the 90's he has been working with Bo Vestergaard, who runs "aalborg.dk.records". At first throwing parties,
later producing and releasing together on Blochs own label Funque Droppings. As a Dj Christian Bloch has played several times at the wellknown club Tresor (Berlin) with his set consisting of hard, tight but very groovy techno.
Recently relocated to Detroit and then San Francisco, he is now running his own site www.christianbloch.com

LL 007 C.Bloch - Paradigm (2000)

| | | |
| --- | --- | --- |
| | | C. Bloch is a techno producer from Aalborg, Denmark. He runs the label "Funque Droppings" which is almost a monopoly in techno in his country and a succsessful "mp3" site. He won the remix contest at Plus8 Records, the label of Richie Hawtin and J. Acquaviva. |

musical biography:
1991 - started doing a radio show "zone #27" on local radio BNR (Aalborg, Denmark).
1992 - dj debut in local clubs, started the band "d.o.h." with Bo Vestergaard and a couple of other guys.
1993 - started doing the legendary "Tachyphobia" parties togehter with Bo V.
1994 - CD debut with "d.o.h." on Hypnotic Rec., started doing "tekkno sumpen"-parties with Bo V. (12 hours ambient/tekno) at local venue 1000fryd, started playing out of town (all over Denmark)
1997 - started his own imprint "Funque droppings" (four singles so far), appeared at Tresor "Headquarters" nights for the first time
1999 - released one track on Tresor Rec. "Demo Tracks Compilation", plus a remix of Bo V's aalborg.dk.records
(licensed to Tresor Compilation)
2000 - 5 releases on "simple muzik" (Düsseldorf / sublabel of "Holzplatten Rec."), LL and Funque droppings

discography:
1997 - waterlog (with bo v.) - swing the club e.p. - funque droppings -
fud #01
1998 - christian bloch - infidelity e.p. - funque droppings - fud #03
1999 - remix for bo v. - aalborg.dk/tresor - aab #2/tresor.135
1999 - "kilo" - tresor - tresor.135
1999 - untitled - simple muzik - simple #04
2000 - untitled - simple muzik - simple #06
2000 - untitled - simple muzik - simple #07
2000 - starry nights compilation - funque droppings - fud #04
2000 - Paradigm - LL - LL #07
2000 - untitled (with bjørn svin) - simple muzik - simple #10
2000 - untitled - simple muzik - simple #11

(back to Pacou labelsite)