Tollstoi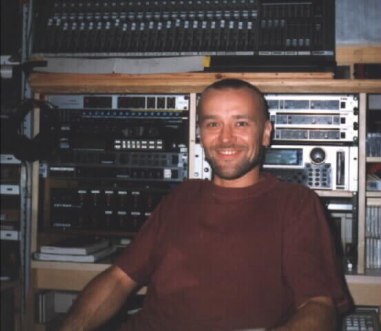 check www.tollstoi.de
Biography
Berlin based Tollstoi (*1965), working as freelance graphic designer at local tv stations, started his musical carrer 1988/89 by organizing early Acid-House-Partys in East Berlins clubs. At the time spinning meant essentially mixing tapes, cause vinylsingles of the new tracks were simply not available...the pure creativity on the loose, he even started some Live MC-ing, influenced by the popular breakdance movement of the eighties.
In the early 90s he became part time Tech-house Jock and played blues harmonica is several Wave- and JazzFunkbands.
1995 he started playing and organizing the "Headquarters" newcomer night at Tresor, which finally led to first equipment purchases and productions about 1996. At first starting with some housey, electro tunes, he soon developed some production skills for use with a wide variety of electronic music. His production styles range from about anything Breakbeat, Drum'n'Bass, Electro to Ambient, Downtempo, Wave/BigBeat, Blues...his latest invention is the NuJazz-Project with talented singer Juliane R.
"Though music is my favourite hobby, I prefer not to make it my first source of income. I guess it would take out the fun element for me - too many compromises, the contracts to fulfill etc...I just love to produce whatever comes to my mind at any time, changing the style regardless of any categorization. Thats really the most important to me."
LL 006 Tollstoi - Jam/ El ritmo (2000)
| | |
| --- | --- |
| | "Tollstoi" (Frankie) is a good friend of mine here in Berlin, Germany. Here are some of his early productions, made some time around 1996/7. He also recently appeared on local labels Tresor (Tresor.94) and BCC Records. |
Discography:
- "The Darkest Channel" ( Tresor 94 "Headquarters", 1998)
- "Adventure"/"Influenza"/"ElectricChamberMusic"
(TranceAmerica No.905 /BCC, 2000)
- "Jam", "El Ritmo Me Gusta", ... (LL 006, 2000)
- CD-Rs "Tollstoi's Burning Discs Records"
1997-2003
-Tresor HQ Vol.2 CD, "The Red Fader", "Unique Summer Electro"
-Ungleich 14 12" single

contact Tollstoi at this address: tollstoi@t-online.de