Cache 001 Pacou - Solid Ground

Cutting date was June 10th 2005 @ D&M in Berlin.
On June 18th 2005 the label design is laid out.
On June 22nd 2005 the first test copies arrived from the pressing plant.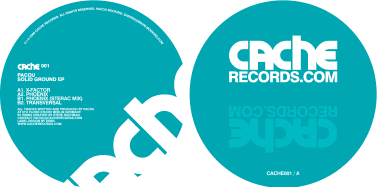 Here are mp3 clips of the first release:
B-Side 1 "Phoenix Steve Rachmad Mix"
The finished copies were out on September 7th, 2005. Thanks to everyone who helped this project, NEWS, dkbn, Tresor, handlewithcare.