Cache 004 Orlando Voorn - Planet Ultra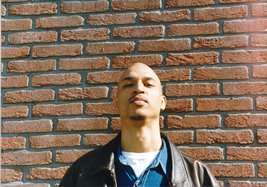 Cache 004 is by oldschool techno legend Orlando Voorn. Release date is september 2006. As one of the first Dutch musicians to establish a vital connection between Detroit and Amsterdam, Orlando Voorn has long been recognized as Holland's most original and inventive producer in the world of electronic dance music. Voorn began djing at the tender age of 12 and went on to win the DMC World Mixing Championships in 1983 with his own characteristic blend of hiphop and electro. Towards the end of the eighties he acquired his first sequencer, packed away his turntables and turned his hand to producing. Following a series of dancefloor tracks recorded for the now defunct Lower East Side Records under the moniker of Frequency in the early nineties (Where Is Your Evidence, Kiss The Sky…), he was introduced to Juan Atkins (Industrial Metal, Game One) and went on to work with both Derrick May and Blake Baxter (as one half of the Ghetto Brothers). He records tracks under more than 20 project names, now being around for nearly 25 years.
| | |
| --- | --- |
| | |
A-Side "Planet Ultra (2006 Hardmix)"